Our Omaha pool and spa company wants to wish you a happy holiday season! And to celebrate… we are offering 15% off spa chemicals and $1500 off Bullfrog Spas, from now until Saturday, December 9.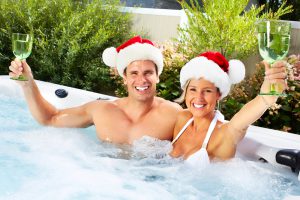 Thinking of gifting your family or loved-one a hot tub this holiday? Now is the perfect time! Bullfrog Spas is a leader in the spa industry, manufacturing the world's only luxury hot tubs with the patented JetPak Therapy System™.
Phoenix Pools retail location also carries the best chemical lines and products for all your pool and hot tub needs. Among some of our favorite brands are EZ SPA products, which are 15% off during our holiday sale.
So, happy holidays to you! Stop by our retail location for some Christmas shopping. For yourself – and your loved ones!